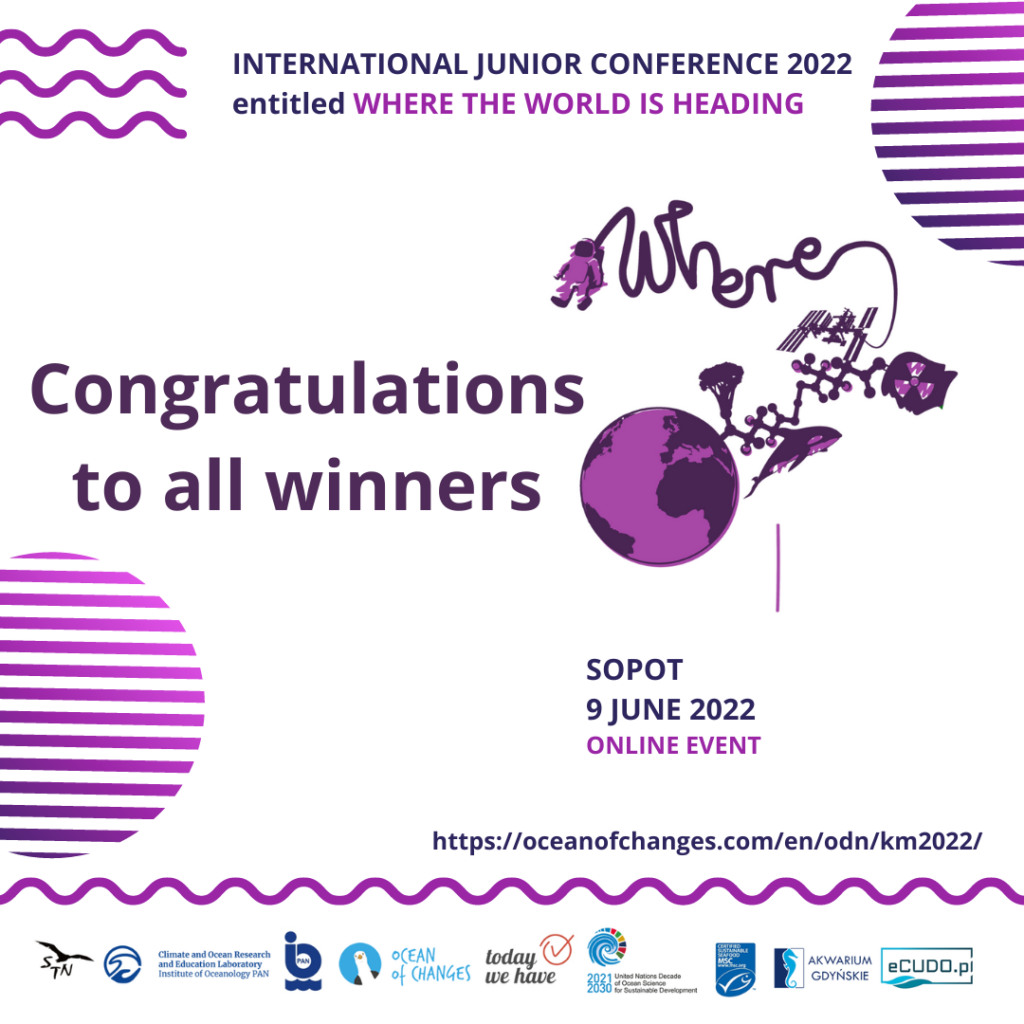 The International Junior Conference entitled Where the World is Heading 2022 took place yesterday.
Children and youth from Romania, Spain, Morocco and Poland presented their amazing projects, which you can see also at
The Scientific Committee, after long discussions, decided that the winners are:
Analysis of microplastic in the Black Sea waters.
Authors: Alessia Dragan, Eva Tudor, Romania
Alternatives to carbon – how to reduce smog?
Authors: Julia Wiewiórka, Antoni Pelc, Michał Wysocki, Maciej Guzowski, Stanisław Ciastoń, Krzysztof Kulesza, Poland
Pollution.
Authors: Emma Buzamăt, Emre Uysal, Silviu Gabriel Crut, Romania
Smart city – A project.
Authors: Magdalena Janoszka, Dorota Kopijka, Zuzanna Koziar, Jakub Lubos, Julia Maciejewska, Sandra Szoda, Jadwiga Ślązak, Jan Włodarczyk, Szymon Zawada
We also awarded 4 distinctions:
Eko-gift.
Authors: Ibrahiem Adam, Kietlińska Helena, Kołtunowska Magdalena, Kozłowski Michał, Milewski Kacper, Pal Amelia, Pionk Daria, Topolski Hubert, Wąsowska Krystyna, Zielińska Aurora, Poland
Noor Rabat City.
Authors: Aya Hachimi, Yassmin Draz, Amina Ousli, Maya Elfeky, Mohammed Amine Elasslaoui, Yassmina Qasbaoui, Mayssae Banad, Morocco
Greenhouse versus climate changes.
Authors: Julia Grzeszczuk, Sarah Tageldin, Maryam Tageldin, Zuzanna Matwiejczyk, Kalina Pniewska, Agata Witt, Poland
Ecology in Practice.
Autor: Hanna Sawka, Poland
It was an amazing meeting with inspiring young people who are not indifferent to the fate of our planet. We hope to see you all during the following year and at the conference in 2023.
The conference is partly connected to the I live by the Sea Ocean Action and Ocean of changes workshops organized by Today We Have, IO PAN ans STN.