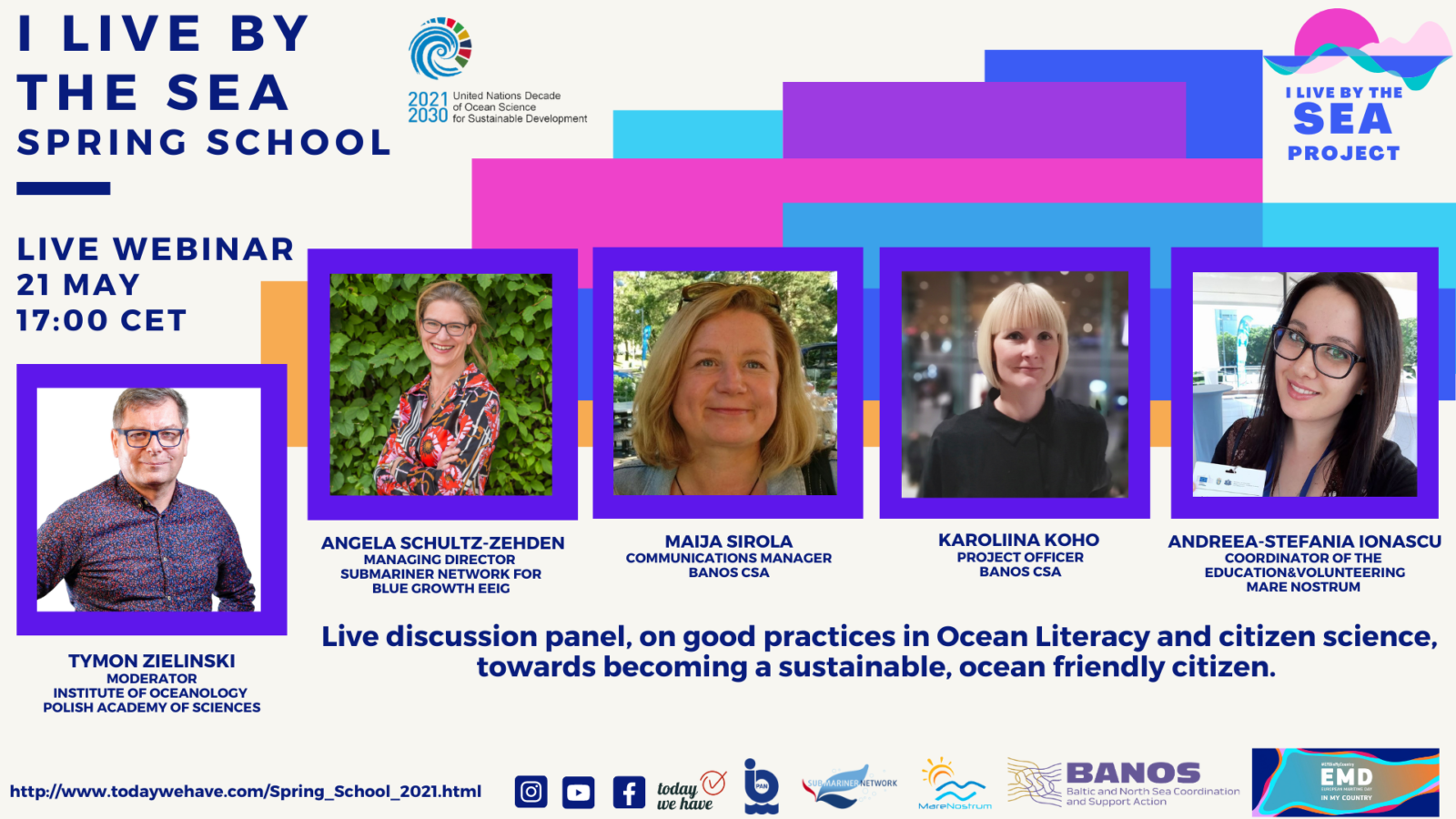 TYMON ZIELINSKI
MODERATOR, INSTITUTE OF OCEANOLOGY POLISH ACADEMY OF SCIENCES
Leader of the CORE–Climate and Ocean Research and Education Unit at IO PAN, where he has a position of an associate professor. Since 2016, Tymon is amember of the UN group of experts of the Regular Process for Global Reporting and Assessment of the State of the Marine Environment. Since 2019, Tymon is a member of the Steering Committee of the European Marine Board Communication Panel and since 2020, achair for the Climate and Ocean Working Group within the EU4Ocean Platform.Tymon has been involved in numerous projects focused on climate change and marine environment, organized numerous meetings and has been a PI in both national and international projects.
ANGELA SCHULTZ-ZEHDEN
MANAGING DIRECTOR, SUBMARINER NETWORK FOR BLUE GROWTH EEIG
Angela Schultz-Zehden (MBA, MSc, BSc), founder and manager-owner of 's.Prosustainable-projects GmbH' and managing director of the 'SUBMARINER network for Blue Growth EEIG' is one of the core experts on Integrated Maritime Policy and the Blue BioEconomy in Europe and has been at the forefront of developing both concepts for more than 20 years by now acting as senior advisor to national ministries; the European Commission as well as IOC UNESCO.
As the managing director of SUBMARINER – a unique network bringing together public authorities, research institutes, business parks and companies involved in the blue bioeconomy across the Baltic Sea Region – she is continuously analysing, initiating and guiding projects designed to foster innovative and sustainable uses of marine resources. As of today SUBMARINER has raised more than 25 mio EUR in funding for more than 16 different projects and the SUBMARINERs Accelerator has provided comprehensive advise and guidance to more than 35 start-ups and spin-offs from all spheres of the blue bioeconomy.
For her work Angela has received the European Commissions' award 'Woman of the Year in the Blue Economy 2016'.
Angela is particularly interested in the role of citizen-consumers and behavioural change with regards to the ocean and the role that ocean literacy can play in this effort.
MAIJA SIROLA
COMMUNICATIONS MANAGER, BANOS CSA
Maija joined BONUS in August 2010. As the Communications Manager of BONUS, she is responsible for planning and implementing communications and dissemination strategy. Maija is the Editor-in-Chief of BONUS in Brief and responsiblefor brand management, publications, online resources, media relations and outreach activities.

Maija has received her Master's Degree in Communications from the Faculty of Social Sciences, University of Helsinki and worked in many different management roles in the field of communications. Before joining BONUS, Maija worked in Vitae, which champions researcher development in the UK, Europe and worldwide. In the early 2000s, Maija led the communications efforts of TRAFFIC, the world's leading wildlife trade monitoring network – a global programme of WWF and IUCN and an advisory body to the Secretariat of the CITES Convention. Maija has also worked at the European Molecular Biology Laboratory in Heidelberg, Germany as well as in different communications roles in Finland.
KAROLIINA
KOHO PROJECT OFFICER, BANOS CSA
Karoliina joined BONUS EEIG in January 2019 as the Project Officer of the Baltic and North Sea Coordination and Support Action (BANOS CSA). Together with the BANOS CSA coordinator, Karoliina manages the work of the national-level programme managers and develops the Strategic Research and Innovation Agenda for the future Baltic and North Sea research and innovation programme. Her duties also include forming stakeholder platforms and devising measures aiming at reinforcing the future programme's impact.
Karoliina received her PhD in the field of marine biogeology from University Utrecht in 2008. In 2008-2013 she worked in multiple post-doctoral positions in both Utrecht University and the Royal Netherlands Institute for Sea Research (Royal NIOZ). In 2014, Karoliina received an Academy Research Fellowship from the Academy of Finland and continued leading her own research projects in the University of Helsinki, Finland. In 2016-2018 Karoliina also acted as a principal investigator in another Academy of Finland funded Key Project.
ANDREEA-STEFANIA IONASCU
COORDINATOR OF THE EDUCATION&VOLUNTEERING, MARE NOSTRUM
Andreea is a psychologist and the Coordinator of the Education&Volunteering Department in Mare Nostrum NGO, one of the oldest NGOs in Constanta, Romania. She has developed over time a passion for the environment, and especially the sea, which are so interconnected with the health and welfare of human beings. Mare Nostrum opened for her new horizons related to the fascinating world of education for sustainable development, but also to environmental psychology. Andreea has been a part of Mare Nostrum NGO since 2007, dedicating her time and efforts to engaging young people, teachers, students, public authorities' representatives and the general public in taking action for the environment. She loves what she does and she strongly believes that education is the base of society and of change, for a better world.

Join Zoom Meeting:
https://zoom.us/j/96452611646?pwd=bUVxaUhmcUsxRThLY01Bam1jaUUrdz09
Meeting ID: 964 5261 1646
Passcode: 041392
Webinar recording:
All information about the I live by the Sea Spring School HERE