Increasing awareness of global change, with climate change as one of the major issues, is crucial in order to develop the next generation of world society, who will be ready to make science based decisions in order to provide secure, sustainable outcomes for the entire planet. In times of global environmental changes, it is obvious that science based education plays a critical role in increasing the current condition of peoples' awareness. Properly designed and conducted science, provides tools for meeting various social needs, including quality education. Thus, there is a strong need for both researchers and educators to cooperate and provide modern approaches to produce science based information and motivate people to act with an environmental perspective. Sustainability science and sustainable and quality education seem to be the obvious tools for achieving these goals.
We hope that this first edition of the I live by the Sea Summer School will provide an interdisciplinary platform for discussions of these challenging issues. We also hope that our webinars will facilitate the exchange of information among users from different parts of the world, who care about our environment.
I live by the Sea Summer School is organized by Today We Have, Institute Oceanology Polish Academy of Sciences and Gdynia Aquarium.
Dates and times.
Five webinars will be held on Wednesdays, and one on Tuesday (28 July). All seminars will start at 15:00 CET. Each webinar lasts 60 minutes, i.e. 45 minutes plus 15 minutes for discussions.
Housekeeping rules.
Webinars will be open to the public, and all meetings will be recorded. Please ensure that your video is turned off and your microphone is muted during the seminar. Please send your questions or comments (short and specific text) prior to a particular webinar (3 days before the date to: office@todaywehave.com) and the facilitator will pick 3-5 questions for the Discussion part of the webinar.
During webinars, please use the Chrome browser:
https://www.google.com/intl/pl_pl/chrome/
If the connection is weak, please manage the quality. The function is located in the lower right corner.
If you will use the phone during the webinar, you must download the application: https://jitsi.org/#download
Please use webinar links provided, following the particular webinar date and title.
Webinar schedule July/August 2020. Please note that except for 28 July (Tuesday), all seminars are on Wednesdays.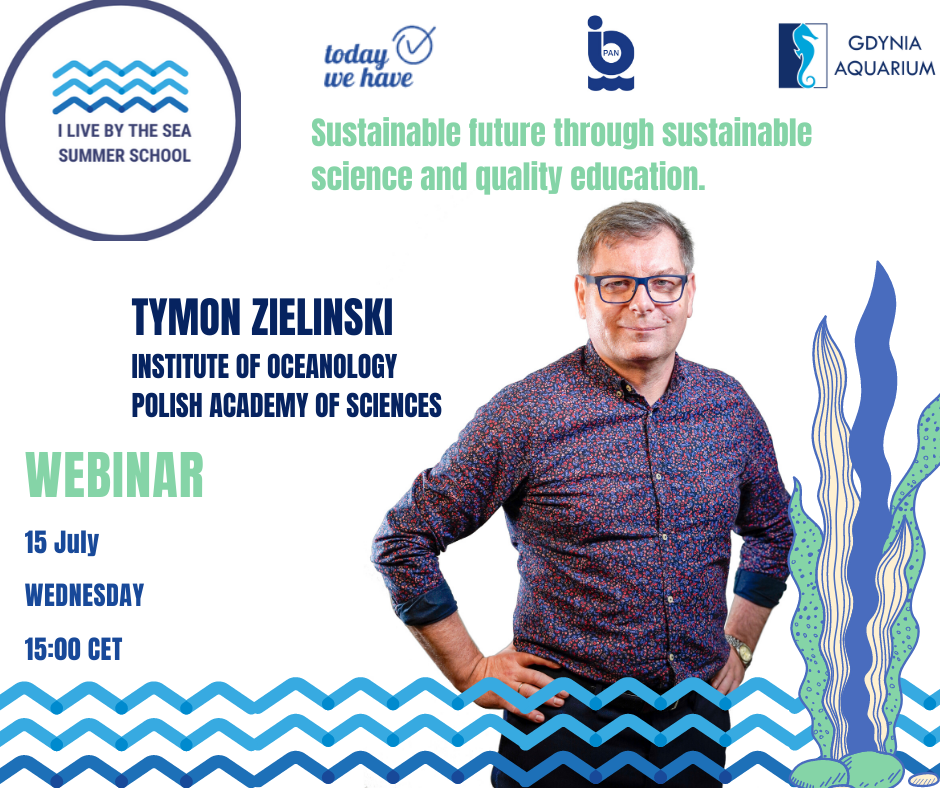 15 July Tymon Zielinski (IO PAN): Sustainable future through sustainable science and quality education.
Webinar link: https://jitsi.iopan.pl/TymonZielinski_15072020
Webinar recording:
https://www.facebook.com/watch/?v=2708213029283564
22 July Agnieszka Skorupa (University of Silesia in Katowice): How to best adapt? The psychological aspects of learning, working and living in isolation.

28 July Leal Zielinska (Gibney): Modern education has many faces. Examples of non-formal educational practices.

5 August Colin Campbell (University of Reading): A language analysis of the textual entries to the I live by the sea Contest.

12 August Agata Skomar and Monika Wiśniewska (Gdynia Aquarium): The Baltic Sea bottom is a desert – truth or myth? The role of Ocean literacy in increasing general awareness.
19 August Ned Dwyer (Randbee Consultants): The Ocean Keeps Us Cool in a Warming World.