We always state that we all live by the sea. No matter how far from the sea you live, next to the beach or far away in the mountains, we still have a great impact on it. And it is up to us whether we create a positive relationship with the sea or have adverse impact on it. We believe that educating people about the importance and the beauty of marine environments is the key to creating positive attitudes towards the sea. Therefore, as every year, we very much welcome also submissions which do not directly picture the sea or are made at the beach, but present peoples' thoughts regarding their relation to the sea in an artistic form from wherever they are. Get inspired by Aleksandra Stoińska, whose picture was one of the winning ones!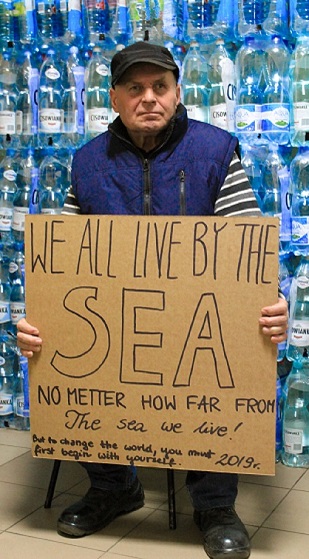 One of the winning photos by Aleksandra Stoińska, age 15. Poland 2019.
Photo Title" "You are the difference".
One of the winning photos by Aleksandra Stoińska, age 15. 2019. Photo Title" "You are the difference". In her story, Aleksandra stated the following: " …. It is estimated that about 80% of pollution in the marine environment comes from land sources. Example: about 12.7 million tons of plastic go to waters every year (approximately it is a mass equal to a mass of 91 blue whales). This is responsible for deaths of innumerable organisms, disturbances in the ecosystem, as well as human tragedies. The truth is that the smallest everyday activities can significantly affect the state of water in the world. No matter where we come from, what we do, how old we are – each of us is responsible for what is happening in waters…."